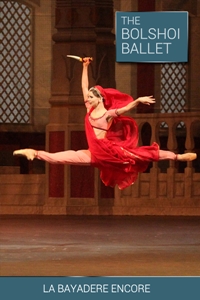 MPAA Rating:
NR
Synopses:
La Bayadère ("The Temple Dancer"), from the Bolshoi Ballet, tells the story of impossible love between the dancer Nikiya and the warrior Solor, set against the backdrop of lush, exotic India. Marius Petipa's choreography, here in a new scenic version by Yuri Grigorovich, is exquisite; especially noteworthy is the scene known as The Kingdom of the Shades, one of the most celebrated excerpts in ballet, and one of the first examples of "abstract ballet."
Cast:
Svetlana Zakharova, Maria Alexandrova, Vladislav Lantratov
Director:
Marius Petipa, Yuri Grigorovich
Genre:
Program
Run Time:
3 hr. 30 mins.
Release Date:
February 17, 2013
OTHER LOCATIONS
No Times Available Click For Times
New Jersey





























New York City







Rockland





Long Island












Westchester











Pennsylvania