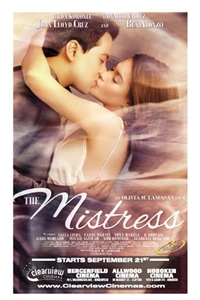 MPAA Rating:
NR
Synopses:
JD (John Lloyd Cruz) is a young self-made architect, who lives his life away from the affluence and influence of his family. He has turned his back from the responsibilities of the family corporation, mostly out of resentment for his philandering father.

Can love change JD and give him the strength to fight for Sari? Will Sari have the courage walk away from her benefactor and take the life of freedom that JD is offering? Or will they both learn that some loves are just not meant to be?
Cast:
John Lloyd Cruz, Bea Alonzo, Hilda Koronel
Director:
Olivia M. Lamasan
Genre:
Drama, Romance
Run Time:
2 hr. 5 mins.
Release Date:
September 21, 2012
OTHER LOCATIONS
No Times Available Click For Times
New Jersey





























New York City







Rockland





Long Island












Westchester











Pennsylvania