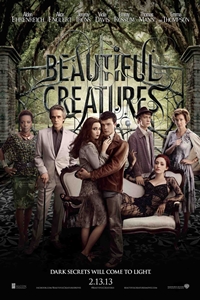 MPAA Rating:
PG-13 for violence, scary images and some sexual material
Synopses:
A supernatural love story set in the South which tells the tale of two star-crossed lovers: Ethan, a young man longing to escape his small town, and Lena, a mysterious new girl. Together, they uncover dark secrets about their respective families, their history and their town. The film is based on the first novel in the best-selling series by Kami Garcia and Margaret Stohl.
Cast:
Emma Thompson, Jeremy Irons, Thomas Mann
Director:
Richard LaGravenese
Genre:
Drama
Run Time:
2 hr. 12 mins.
Release Date:
February 14, 2013
OTHER LOCATIONS
No Times Available Click For Times
New Jersey





























New York City







Rockland





Long Island












Westchester











Pennsylvania