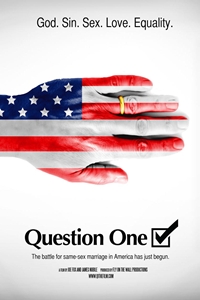 MPAA Rating:
NR
Synopses:
On May 6th, 2009 Maine became the first state in this country to legislatively grant same-sex couples the right to marry.
Seven months later, on November 3rd 2009 Maine reversed, becoming the thirty-first state in this country to say "no" to gay and lesbian marriage. Filmed from within both campaigns, "Question One" chronicles the fierce and emotional battle that took place in Maine during that time, a battle whose political symbolism is a bellwether for the greater ideological battlefield in American politics.
Cast:
Marc Mutty, Linda Seavy, Reverend Bob Emrich
Director:
Joe Fox, James Nubile
Genre:
Documentary, Family
Run Time:
1 hr. 53 mins.
OTHER LOCATIONS
No Times Available Click For Times
New Jersey





























New York City







Rockland





Long Island












Westchester











Pennsylvania