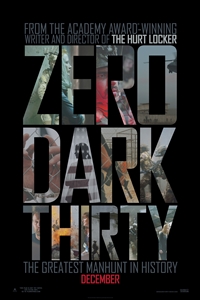 MPAA Rating:
R for strong violence including brutal disturbing images, and for language
Synopses:
For a decade, an elite team of intelligence and military operatives, working in secret across the globe, devoted themselves to a single goal: to find and eliminate Osama bin Laden. This is the story of history's greatest manhunt for the world's most dangerous man.
Cast:
Jessica Chastain, Jason Clarke, Joel Edgerton
Director:
Kathryn Bigelow
Genre:
Suspense/Thriller, Action/Adventure, Drama
Run Time:
2 hr. 37 mins.
Release Date:
January 11, 2013
OTHER LOCATIONS
No Times Available Click For Times
New Jersey





























New York City







Rockland





Long Island












Westchester











Pennsylvania