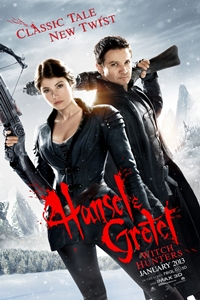 MPAA Rating:
R for strong fantasy horror violence and gore, brief sexuality/nudity and language
Synopses:
Catching up with Hansel and Gretel 15 years after their incident involving a gingerbread house, the siblings have evolved into bounty hunters who hunt witches.
Cast:
Gemma Arterton, Jeremy Renner, Famke Janssen
Director:
Tommy Wirkola
Genre:
Action/Adventure, Comedy, Horror
Run Time:
1 hr. 28 mins.
Release Date:
January 25, 2013
OTHER LOCATIONS
No Times Available Click For Times
New Jersey





























New York City







Rockland





Long Island












Westchester











Pennsylvania